Meiya MPE Liu Zhigang: building smart bedroom solutions with Huawei
August 20-23, 2020 Shenzhen fashion home design week and 35th Shenzhen International Furniture Exhibition were held in Shenzhen International Convention and Exhibition Center. Covering an area of 320000 square meters, the exhibition opened 16 pavilions and set up 7 theme exhibitions, which became a new benchmark of "internal circulation" of Chinese furniture under the epidemic situation. Tencent home interviewed Mr. Liu Zhigang, managing director of Meiya MPE, and invited him to share the highlights and development plans of the company.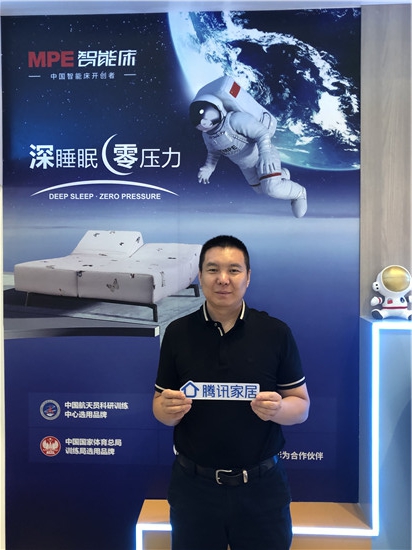 Meiya M Liu Zhigang, managing director of PE
——————The following is the interview record——————
[Tencent home] This is Meiya MPE How many times to participate in Shenzhen International Furniture Exhibition ?
Liu Zhigang : As the executive vice president of Shenzhen Furniture Association, we have participated in Shenzhen International Furniture Fair every year since it was held.
[Tencent home] As a regular exhibitor of Shenzhen Furniture Fair, what new products did Meiya MPE bring this year?
Liu Zhigang : We launched a space floating bed named after the satellite. There are also Hermes beds that emphasize the sense of design , This kind of product uses the special Italian fabric, has the characteristic in the color and the material. At the same time, we have launched a space leisure chair suitable for office and home use. There are many modes such as yoga stretching.
[Tencent home] Just now you Talking about Meiya MPE We have developed a space leisure chair. Can we think so , Meiya MPE is not only positioned as a smart bed brand , but a provider of smart home. future whether Will it be extended in other ways?
Liu Zhigang : We are still Focus on Intelligent sleep system, even if some extension is made, is also in the direction of smart bedroom, such as intelligent pillow, At the same time, it will connect with Huawei system in the future to explore the related products of smart bedroom 。
[Tencent home] : And Previous years Compared with Shenzhen International Furniture Fair, what are the differences of this exhibition ?
Liu Zhigang : first, Held this year Of The venue is a new exhibition center with a single area Up to 320000 M2 Is the largest in the world Home furnishing exhibition. secondly, The whole exhibition hall equipment First class facilities, VIP office 、 restaurant 、 Hotel and other supporting facilities are very convenient for exhibitors and visitors perfect , At the same time, the service provided by the organizer is also very considerate. The exhibition will be held in epidemic situation It can attract nearly 700 exhibitors, which is also an important manifestation of industry confidence.
In addition, Intellectualization is one of the highlights of this year's Shenzhen furniture exhibition. The organizer opened a Huawei intelligent exhibition hall this year , Meiya M PE Also with Huawei common make Yes Smart bedroom. There are many brands this year stay In the manufacturing process very Focusing on intelligence, there are many intelligent concepts integrated into home products in 。
[Tencent home] : Please introduce the products cooperated with Huawei this time.
Liu Zhigang : Meiya MPE smart bed is the earliest in China. It started to cultivate this industry ten years ago, so from the advanced technology 、 In terms of experience, Meiya MPE is the best in the industry at present. In the process of R & D, we constantly upgrade our products. For example, this year, we cooperated with Huawei to build a smart bedroom , Put the bed Upgrade to a system and connect with Huawei's intelligent software system, realization window curtains 、 Aromatherapy 、 Smart speaker 、 Intelligent air conditioning 、 alarm clock 、 Intelligent human sleep monitoring The interconnection of, According to the life scene and The ultimate goal is to enable users to have a deep and healthy sleep.
[Tencent home] : This set of products Is Huawei providing the system and Meiya MPE providing hardware technology docking?
Liu Zhigang : Yes, our technology and Huawei's technology are integrated and linked. As a central control, we can interconnect other products to achieve integrated control and use.
[Tencent home] : such Everything is interconnected Of scene By what medium ?
Liu Zhigang : main By mobile phone Applets To control, include Voice or key control , At present, it is mainly voice control. Using the alarm clock In the life scene of , In the morning When the alarm clock rings, the bed will slowly lift up, and the smart speaker will play Music, at the same time, the fragrance will also disperse the sober taste, the curtain will slowly open. If you want to sleep, you should Of Scene state, the curtain will slowly close, the light will also go out, conducive to sleep fragrance will also be turned on.
[Tencent home] : such Intelligent life At present, the scene has not entered thousands of households. Do you think that smart home will be popular in a short time?
Liu Zhigang : one side, along with means The development of real estate market and the improvement of intelligent technology development level make intelligent connection and More mature control 、 convenient , Consumers have more and more demand for intelligence high 。 On the other hand, with the post-90s 、 00 after This generation of "Internet natives" gradually Become the Lord flow Consumers, intelligent product system With increasing acceptance, smart home will usher in a broader market.
[Tencent home] : Meiya What are the target consumer groups of MPE?
Liu Zhigang : We have made a product positioning and differentiation, for young people, will design some cost-effective products, these products are more fashionable , 6999 element You can buy a smart bed 。 In addition, there are also high-end products designed for the middle class Material reach The comfort is quite high-end.
[Tencent home] Due to the epidemic situation this year, there are many brands in the home furnishing industry Do MPE of Meiya also have some exploration in this area, such as live broadcasting, talent incubation, online design, and private traffic operation?
Liu Zhigang : We are already doing it now. Our youzan mall has thousands of people, thousands of stores and dealers Yes Digital stores. In live broadcasting, our e-commerce department will also use it The designer a Shuang and other experts carry out live broadcasting activities, which are basically carried out every year. In the second half of the year, they will also increase the launch in the field of short video.
[Tencent home] : at present quite a lot Home enterprises will set up their own teams or digital departments to undertake the operation of the red flow of Darren , Meiya MPE The future is Self built team Or with the help of a third party layout What about it?
Liu Zhigang : Most of us rely on external forces because they are more sensitive to the market and operate more professionally. We also There will be a professional team to connect and cooperate with each other.
[Tencent home] : in fact, The home furnishing industry is a relatively traditional industry, Do you think that in this industry, will digital marketing become a normal or just a flash in the pan hot spot?
Liu Zhigang : I think digitization will become the industry norm. Digital marketing is Basic tools, about In terms of home furnishing industry, digital construction will be more and more powerful in the future. along with means Popularity of 5g and With the development of mobile terminal, the application of mobile phone will be more extensive use Mobile phone time will be longer and longer 。 So we're building digital It will be strengthened. and live broadcast It's not just It's an event, and It is a marketing model and should be used as a long-term tool , Every enterprise is also inseparable from the live broadcast, and needs to do some fans' business accumulation for a long time.
Tencent home: Meiya MPE in the second half of the year What are the plans and objectives?
Liu Zhigang : Our plan and goal for the second half of the year is very simple, that is to open more stores and do more activity marketing. At the terminal to help dealers do business well. First of all, we should do a good job in our products and cooperate with Huawei to create a certain influence in the industry. The second is We hope that we can recover the sales affected by the epidemic this year, and our goal is to increase by more than 30% compared with last year. I believe it can be done.
[Tencent home] : the growth of stores this year is What are the requirements ?
Liu Zhigang : For the increase of franchise stores, we expect to increase by 50 to 100. It turns out that there are about 200 stores.
[Tencent home] : Thank you for your interview.